The Rise of a Superpower
Over the past two decades China has successfully transformed itself into a global technology superpower. It now accounts for 20% of total world R&D spending, publishes more academic papers than any country apart from the United States, and is home to the world's most valuable unicorn.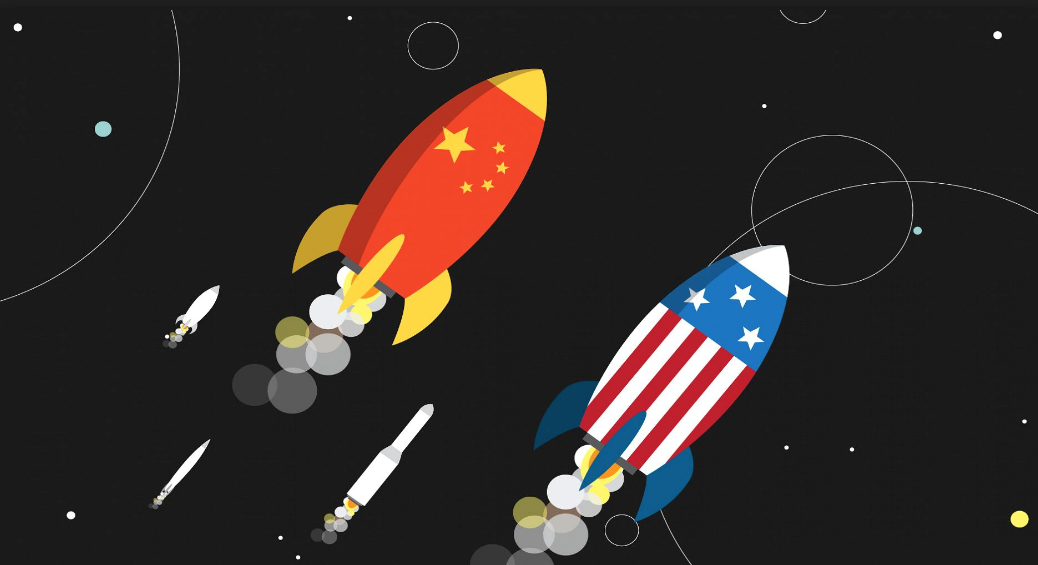 Amidst China's technology boom a list of titans have emerged including Tencent, Alibaba, and Baidu. China's Titans', although dwarfed by the US Tech Giants in terms of revenue and users, continue to post exceptional growth figures with much potential still to fulfil. In this article, we explore China's technology ecosystem, the infrastructure and how some of China's most promising companies compare to those in the US.
Investing in the Future
Since the early 2000's China has increased its yearly R&D spending significantly. China's national R&D spending is now estimated to reach ¥1.76 trillion in 2017, which will be equivalent to 2.15% of GDP and a more than 70% increase on 2012.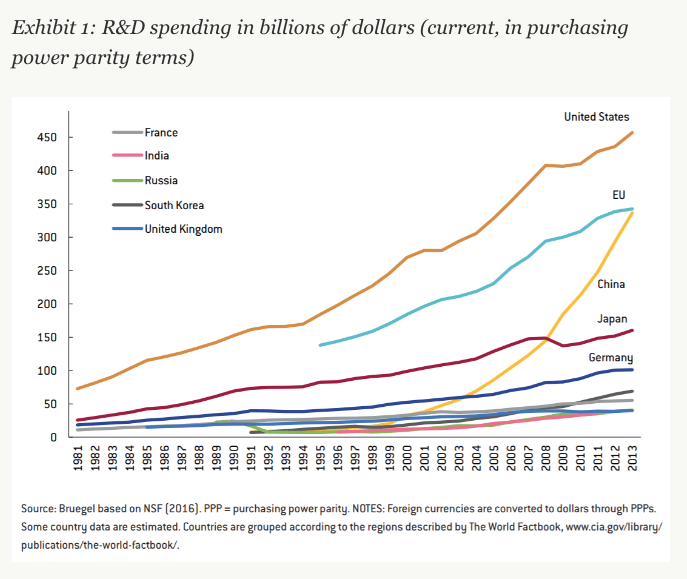 In comparison to the rest of the world, China is now the 2nd largest R&D spender trailing only the United States (and the EU if all members' investment is combined). The remarkable R&D spending growth has led the country to the forefront of innovation in areas such as AI, IoT and blockchain; and China now produces more undergraduates and PhD students with natural sciences and engineering degrees than any other country.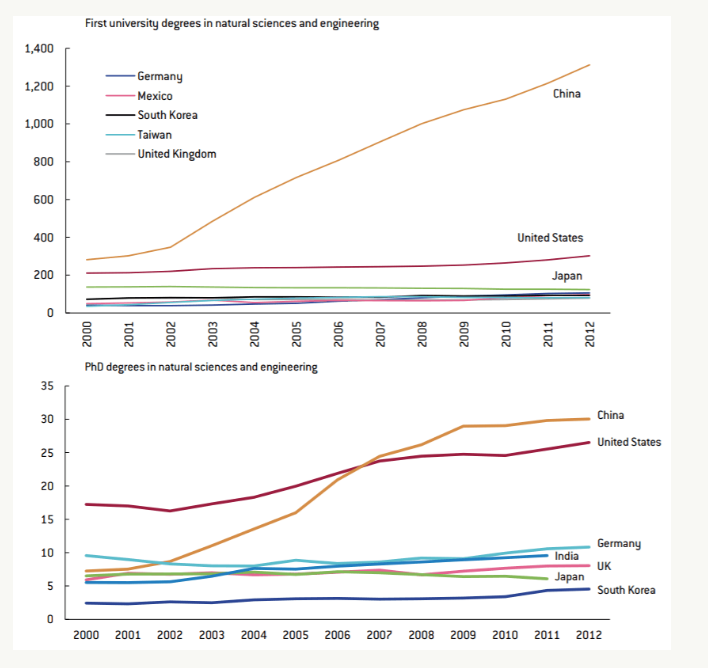 China has established itself as a leading technology innovator but as set out in the 2006 National Medium-and Long-Term Program for Science and Technology Development. It still has bigger ambitions that include:
Increasing R&D expenditure to 2.5% of GDP
Increase the number of staff working in R&D to 60 per 10,000
Ensure 10% of the population has a scientific degree by 2020
Be the global lead in science and innovation by 2050.
In addition to these targets, $9.4 billion has been set aside for development of private startups and the government intends to establish more than 10,000 domestic accelerators, incubators and startup hubs by 2020.
China's Rising Stars
After 12 years of implementing the progressive Science and Technology program, a growing number of Chinese technology startups are now excelling on the global stage. China's rising stars range from technology conglomerates that have floated on the public markets to unicorns, of which there are 63 equivalent to 27% of the global total.
China's three largest technology titans float on NYSE, NASDAQ and HKG. Each company has similarities to a member of the FANG* stocks with the exclusion of Netflix (the Chinese equivalent is IQIYI, which is traded on the NASDAQ).
*Facebook, Amazon, Netflix and Google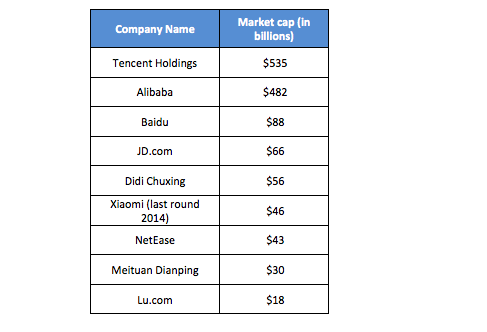 To summarise each of the Chinese titans:
Tencent - "The Chinese Equivalent of Facebook"
Has the world's largest and most valuable gaming and social media company. Founded in 1998, the company's services have grown from a messaging app to include games, social networks, music, e-commerce, Internet services and more. In November 2017, Tencent was the first Asian company to cross the $500bn valuation mark, and since January 2018 its valuation has also exceeded Facebook's.
Alibaba - "The Chinese equivalent of Amazon"
Has been the world's largest and most valuable retailer since April 2016, when it surpassed Walmart. The company provides C2C, B2C and B2B sale services via a web marketplace, as well as e-payments services, shopping search engines and data centric cloud computing services. As of November 2017, Alibaba had more than 550 million monthly active users across its platforms.
Baidu – "The Chinese equivalent of Google"
Has specialised in internet-related services and products. The company's search engine is the second largest in the world and holds close to 75% market share of China's search engine market as of March 2018.
Battle of the Titans
China's technology ecosystem continues to grow exponentially and its companies are now competing on the same level as some of the most innovative US companies. When comparing Chinese publicly listed firms to those in the US we notice they are posting less revenue and in most cases have fewer customers.
However, the most notable difference between US and Chinese publicly listed stocks is the growth rate differentials. Alibaba and Tencent are the second and third fastest growing technology stocks from a revenue perspective.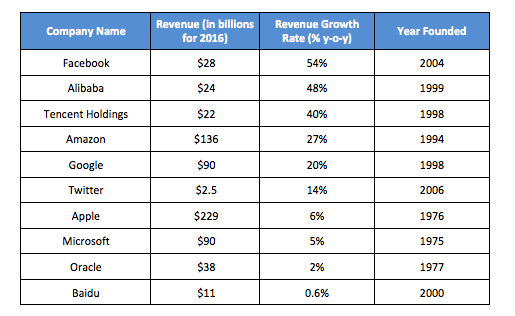 When comparing China's technology startups (private companies) to those in the US, the ecosystems are beginning to draw closer similarities. In the list of the ten most valuable private technology companies, Chinese companies accounted for: 4 out of 10 of the companies, 3 out of 5 of the most valuable companies, and the most valuable unicorn, being Didi Chuxing (a ride-hailing service provider).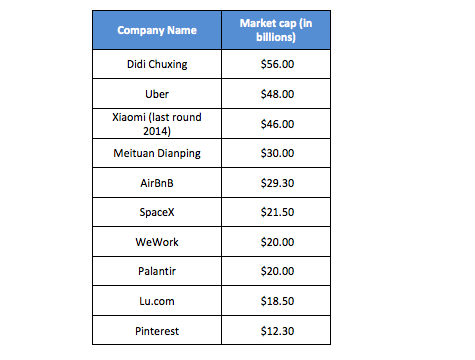 2030 Vision
China's 2020 vision is close to being realised after years of developing its technology ecosystem, increasing R&D spending, and focusing on a natural science driven educational system. The country is now one of the global technology leaders and has a multitude of technology startups innovating across sectors.
Going forward, we expect China to strengthen its presence in academia (especially in the field of AI), increase the amount of knowledge-intensive startups founded through the use of government support, and increase its share of total VC funding. By 2030, China will be the US' equal in terms of technological innovation and a close contender for the title of global technology leader.