The Apple Watch was the first new product category Apple had launched in five years, setting the bar and raising smartwatch awareness.
Smartwatches may not appeal to everyone, however the industry has continued to grow at a phenomenal rate. We previously explored this in 'Is now the time of the Smartwatch?'
Apple's CEO Tim Cook stated that the Apple watch is "the most personal device Apple has ever created," adding: "It is not a shrunken iPhone. It is a new, innovative way to communicate directly from your wrist."
Initially I was sceptical, wondering what problem did it solve? The Apple Watch didn't appear that 'smart' to me if it still needed an iPhone, merely making it an expensive iPhone accessory! Furthermore my Smartphone could do everything that I needed already and on a larger screen. So what indeed was the point of a Smartwatch?
However as the launch got closer, I became intrigued and more interested about this device. Especially as I had recently upgraded to an iPhone 6 and knew it would be compatible.
I have been fortunate enough to experience this first generation wearable device for just over a month. Initially it felt counterintuitive (unlike other Apple products) although it quickly became a talking point for whoever saw it!
Therefore it remained as a permanent daily fixture on my right wrist replacing my fitness tracker and my watch that would normally adorn my left, updating me with short bursts of useful information. (You will need to wear it on your non-dominant wrist unless you are ambidextrous!)
So if you're still debating buying one, you probably want to know what you get for your money.
The first thing to understand; it is not intended to replace your iPhone, but augment it. The Apple Watch uses Bluetooth connectivity and needs to be within a 9m range of your iPhone 5, 5s, 5c, 6 or 6plus. However it will try to communicate over Wi-Fi if Bluetooth isn't available. When out of range it will simply display a red disconnected icon on the top of the watch face.
Surprisingly the Apple Watch does have several functions even when disconnected. Most importantly it still provides you with the time, as well as Apple Pay, Passbook, Music, Photos, Fitness and the ability to read previously received texts and voicemails.
Over the last 6 weeks I have been able to explore what the Sport edition has to offer and here are my findings:
Design and Quality
It is a stylish and attractive design that has a quality look and feel. This sleekly engineered piece is pleasing on the eye and wrist, I opted for the larger size of 42mm at £339 which has not caused an issue in size or weight. (The smaller 38mm screen is slightly less at £299). The rubber/plastic sport band is comfortable to wear, although was initially tricky to get used to putting on.
Battery Life and Charger
Apple state that on an average day, with typical usage, you should get 18 hours of battery life from the Apple Watch. Originally a topical issue of debate; however this has not been a problem. It has lasted until the end of the day when I'm ready to put it on charge. This is completed during the night and is easy and hassle-free, by simply placing it on the magnetic charger. (It only takes 2 ½ hours to go from 0% to 100%).
I have noticed my iPhone 6's battery life decrease a little faster since pairing, but not enough that it has caused any problems.
Understandably the watch and phone battery will potentially drain faster with increased user activity, as data is being continually sent back and forth via Bluetooth.
Watch Face
Although the Apple watch has ten interchangeable faces to choose from, I still found the choices rather limited. The modular watch face is the one you see after the initial set up, which has remained my favorite. It contains five customisable slots of information at a glance.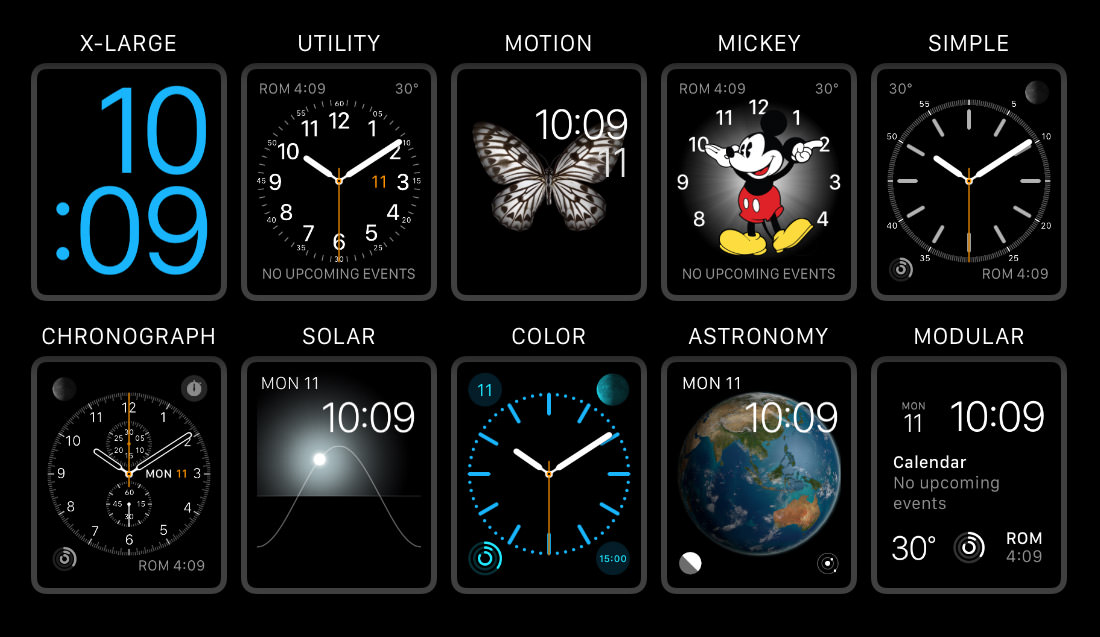 I have chosen the date, calendar, weather, fitness summary and battery life. I do change the colour occasionally using the 'force touch' but would like to see a more varied spectrum.
Health and Fitness (Activity Tracking)
Personally this was one of the most attractive features of the watch that I wanted to use. I had already become 'hooked' to my Fitbit's data, showing my daily steps, calorie burn and active minutes. Would the Apple Watch be able to replace my Fitbit Flex and give me more?
Most definitely! Although it took some getting used to, as the Apple Watch doesn't track activity the same way as most fitness trackers, concentrating more on your overall health and wellbeing.
It has a water resistant rating of IPX7, meaning it's safe up to 1 metre deep for 30 minutes. This basically means it can handle sweat, a drop of rain or water, but Apple warns 'submerging the Apple Watch is not recommended'.
The Blue Stand Ring
If you haven't been moving around, the Apple Watch notifies you ten minutes before the hour that you need to stand for a minute. An intuitive prompt to encourage you to leave your desk, to stretch your legs or make a drink. A clever alert which highlights the need to break from your keyboard for 60 seconds.
The Green Exercise Ring
This is determined by your heart rate and movement data and is designed to encourage you to do more. Apple defines exercise as any activity you perform that is equivalent to a brisk walk or more, with a daily target of 30 minutes. However the Apple Watch learns your habits quickly and will give you a weekly activity update, trying to push your goals further each time.
The Red Move Ring
Using your motion and heart rate data, it counts your resting and active calories. Resting calories are those that you burn in general just by breathing. Whereas the active calories are those calculated by any exercise you do. The Move Ring is aiming for you to achieve your active calorie count. This can be adjusted to your personal target. Again the Apple Watch collects your data and will push you further each week with a new move goal.
Workout Tracking
This enables you to track your favourite indoor and outdoor workouts and offers you a detailed summary on completion. You can set a calorie, distance of time goal depending on your workout. It then gives alert notifications of time elapsed, distance covered during your workout. This information if saved is updated to your daily activity goals.
You can use the Apple Watch without your phone (put in airplane mode). Although it doesn't have a GPS receiver it will record your pace, elapsed time, calories, distance and heart rate. Apple recommends that you run with your iPhone the first few times to calibrate the algorithms from your Apple Watch with GPS.
This gives you the freedom to run without your iPhone as you can still stream music from the Apple Watch to your Bluetooth headphones, removing cable hassles and improving the overall user experience. However without your phone, it will not log your map data. Hopefully future models will eventually contain a GPS receiver.
All your achievements (rewarded by medals) and workout data including heart rate and steps can be viewed in more detail on your iPhone giving you a more complete synopsis including weekly and monthly overviews.
Notifications and Glances
By default the Apple Watch will mirror your iPhone's settings with all your digital notifications, however this 'taptic feedback' can seem a bit excessive on your wrist. Therefore I adjusted these on the Apple Watch app on my iPhone. Any new alert is signified by a red dot at the top of the Watch screen. Just simply swiping down will give you all your recent notifications.
Glances are short and easy to read summaries of information from frequently used apps, optimized for the Apple Watch. You swipe up to view your customized glances, then swiping across will cycle through these. Tapping on a glance will launch the associated app.
Apple Watch Apps
The Watch acts as a display for compatible apps that run on youriPhone.
Messages
The Watch is better classed as a passive device when receiving messages (a very handy feature). Unless you want to use one of the customized stored responses or animated emoji's (only compatible with other iPhones), sending a reply by voice command is a bit hit or miss. It either couldn't pick up what I was saying, or misunderstood me. Furthermore I couldn't figure out how to punctuate a sentence so reverted back to the iPhone.
Mail
Using the 'digital crown' you can scroll through your email notifications. However this will drain more of your battery as it connects back and forth with your iPhone via Bluetooth. The watch due to its size does not have a keyboard. Therefore I have continued to use the iPhone for checking and replying to emails.
Siri
You can activate Siri by either pressing the digital crown, or saying 'Hey Siri'.
However if you are in a noisy setting it doesn't always work. I couldn't seem to successfully operate it via the voice command, so I'm not using this function.
Calendar
Viewable on your Apple Watch, shows you your next event and allows you to accept or decline invitations, therefore ensuring you never forget / miss a scheduled event.
Weather
It gives you the weather for the next twelve hours, allowing you to see the temperature, forecast and precipitation on three separate screens by using 'force touch' (holding your finger down on the centre of the Watch). These were pretty accurate and I found myself using them several times a day. Once in the app you can simply swipe up for the weekly forecast.
Maps
Works with your iPhone and uses custom vibrations to navigate you to your destination. I found this feature particularly useful, whilst listening to the directions the 'taptic feedback' (gentle tap on your wrist) notifies you just before your required turning. Missing my turning was an occasional problem experienced with Satnavs.
Stocks and Heartbeat
These are currently set up in my Glances, I indeed have done that…glanced at them.
Alarm, Stop Watch and Timer
I haven't used the alarm, but the Stop Watch and Timer have been very handy, especially when cooking. Allowing me to move away from the kitchen and not ruin the dinner!
Camera and Music
The Apple Watch is a remote control for your iPhone Camera, which at some point I'm sure will come in handy. The Photos app stores 75MB of your favourite snaps. It will also work our Apple TV although I've yet to try this.
The music app offers 2GB to store your favourite tracks. You can access these via the glances. This really came into play when I was out running. With my Bluetooth headphones connected, I was able to change tracks from my wrist with ease, making my music experience seamless.
Passbook and Apple Pay
This clever app allows you to access your stored tickets, vouchers and store cards and now pay for items with Apple Pay's 'one-touch checkout'. (To be examined in more detail in a separate article).
Third Party Apps
It is noted that only five of the twenty most popular iPhone applications have Apple Watch versions.
So far I have installed Twitter, Instagram, Ebay, BBC News and The Economist. However I haven't found any real desire to want to check these apps out on the Watch since their initial download, preferring to use the iPhone. This may answer the question as to why there is currently such a diluted offering off third party apps for the Apple Watch.
Overall Impression
After investing in some time of mutual learning, the Apple Watch will continue to offer and excite you with more personal experiences. It acts as your 'digital personal assistant' and allows you to always be contactable. However there is a danger that you will not be able to detach yourself from your 'digital life'.
You 'feel' every call even if you don't hear them! If you happen to answer via your watch, you have the initial excitement of feeling like a 'Special Agent' as you speak closely into the built in microphone. However the novelty very quickly wears off as your arm begins to ache!
It is a high-end innovative piece of technology that on waking now resides permanently on my right wrist. This was initially because I was still wearing my watch on my left, and being left-handed I found it easier to operate on my right. It has now relegated my 'normal' watches to the jewellery box.
Even when we know we've exercised, we like to see exactly how much we've exercised and all the relevant data. Therefore the Health and Fitness (Activity Tracking) has acted like my own 'personal trainer', encouraging me to reach my goals and then push me some more.
Apple Pay has been the most pivotal and technological advancement so far, making this wearable device an essential luxury.
Despite some minor 'niggles' I have been truly won over by Apple's first wearable device. Having already invested in so much Apple technology, I am pleased to add this to the collection. It works well, with no real issues with speed and will have the potential to offer so much more. Therefore I am eager to embrace its future updates.
It is worth investing time in the Apple Watch to get the most out of it, then its usefulness will continue to increase, making it a must-have essential in the coming years.
Sources
https://www.apple.com/uk/watch/technology/
http://www.apple.com/uk/watch/?cid=wwa-uk-kwg-watch-com
https://support.apple.com/en-gb/HT204523
http://www.imore.com/apple-watch-activity-tracking-5-tips-you-need-know
http://www.macworld.co.uk/review/ios-accessories/apple-watch-review-specs-features-battery-uk-price-3544044/#design
http://www.macworld.co.uk/feature/apple/complete-guide-apple-pay-when-will-apple-pay-launch-in-uk-release-date-barclays-hsbc-3544309/#ukbanks
http://www.techradar.com/news/wearables/best-apple-watch-faces-1292727
Natasha Evans