The number of female founders has increased immensely in the recent years, however female entrepreneurs still suffer from a gender bias. During her work experience Jennifer Forey (Yr10 student) from the Hertfordshire & Essex High School and Science College explored the different obstacles to success experienced by female entrepreneurs.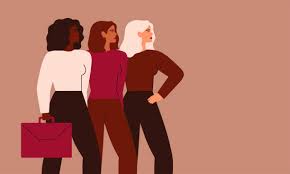 In a Uk-wide study in 2020 it was found that 32.37% of businesses were founded by females which was huge leap from 2016 when the percentage was only 17%. Although the gender gap in business has decreased significantly in the past few decades, there is still unfortunately a gender bias against female entrepreneurs. They face many challenges in setting up and growing their business, especially with finding funds. I feel women are under-represented to a significant extent in the business world. We have seen women are capable of the same success as successful male entrepreneurs by many amazing women such as Sarah McVittie and Emma Sinclair who fought the challenges and demonstrated it was possible to overcome these. All entrepreneurs, male and female, face many hurdles in trying to set up and run a business as it is a competitive environment but having these extra obstacles for women to tackle can make it seem, for me, quite intimidating and discouraging. This may not be the same for all women as some may thrive and work harder in the face of a challenge and want to prove they have the skills and capability to succeed but for others like me taking an even bigger risk with loss of financial security and failure on the line can be pretty terrifying.
Funding
Funding is one of the biggest obstacles for female entrepreneurs. In 2021 the company, Start-ups, collected data from over 200 small businesses and revealed that businesses with male founders or co-founders receive almost seven times more funding than female owned businesses. On average a female founded business receives £644,000 while a solely male-owned business receives of £4.34 million. They also discovered over half female founded businesses are bootstrapped, meaning they only use existing resources such as personal savings and garage space to start and grow their business, while this only applies to 26% of male led organisations. As a result, women are receiving much less funding which then limits the potential of their business and will mean they see less opportunities. What's more this can lead to a lack of confidence for many women, so they resort to self-funding or don't try at all as it seems like a hurdle too high and dangerous to climb. While bootstrapping has its benefits such as having full control over the business, it includes personal financial risk and actually increases the chance of business failure. As for the women, similar to myself, who are put off by the huge risk that would have to be taken, we miss out on all the ways their innovative ideas and businesses could have improved the world and society.
The Confidence Gap
Another big barrier for female entrepreneurs is the lack of confidence and self-assurance women have in general compared to men. Confidence is a really important part of starting a business as when you believe in your ideas and business, there is more chance others will do too. According to the Rose Review of Female Entrepreneurs, compared to 55% of males, only 39% of women are confident in their ability to launch a business. The survey also discovered that women have the same amount of talent, education, ability, and experience as those men; the only thing holding them back is a lack of confidence. I think one of the origins of this may be how confident girls are often labelled as 'bossy' or 'arrogant,' while men with the same confidence are usually respected and celebrated. Furthermore, The Harvard Gazette carried out a study which showed that men are much more comfortable promoting themselves than women are. On the whole, women have a lot more self-doubt than men which is something I have personally struggled with too. I often used to, and still do from time to time, underestimate myself and persistently look for validation from others.
Juggling Business life with Personal life
Balancing running a business and looking after the kids and household can be very stressful and challenging. For the most part, women are the primary care-givers and they are more likely to see family as a number one priority. Thus, the pressure of managing family life, including spending quality time with the kids, while running and growing a business can be quite overwhelming. One of the key issues for women, and especially for self-employed women, is maternity leave. HR news studies in 2021 have shown that 43 percent of female business owners are returning to work after only a few weeks of maternity leave. The majority of respondents claimed that they took that decision because they thought they had to get started managing the workload as soon as possible. Taking time off can be especially hard if the business is in a fast-paced sector, such as technology, that advances so rapidly. Maternity leave is a particularly important and magical time to start learning and adapting to the major life transition of becoming a mother, but I can imagine for a female entrepreneur it must be tough to manage their concerns for their business at the same time. On the other hand, while some women chose to cut their maternity leave short, others struggle to get back into the work world or give up altogether.
What I hope to see in the future
Starting and developing a business as a female entrepreneur is a tough challenge, but it has been managed by some. However, I believe with better access to funding, more support in helping women to manage both their family life and business life and a boost in confidence so many more female entrepreneurs could arise with new and inventive ideas that could benefit the World. Especially as a business student, I think this would be such an amazing and inspiring thing to see.
References:
https://startups.co.uk/funding/gender-funding-gap/
https://www.businessleader.co.uk/the-confidence-gap-holding-female-entrepreneurs-back/#:~:text=Here's%20a%20stat%20for%20you,compared%20to%2055%25%20of%20men.
https://www.linkedin.com/pulse/impact-confidence-gap-women-entrepreneurs-thetc3
https://news.harvard.edu/gazette/story/2020/02/men-better-than-women-at-self-promotion-on-job-leading-to-inequities/
https://www.instantoffices.com/blog/instant-offices-news/gender-and-entrepreneurship/
https://hrnews.co.uk/overcoming-the-challenges-of-taking-maternity-leave-as-an-entrepreneur/
https://www.telegraph.co.uk/business/women-entrepreneurs/five-barriers/
Jennifer Forey
The Hertfordshire & Essex High School and Science College
Year 10
1st July 2022