London is a hotbed of technology and digital innovation. While on work experience, young technopreneur, Asher Fischbaum, provided us with his take on the London start-up scene and how to go about launching a new venture in the capital.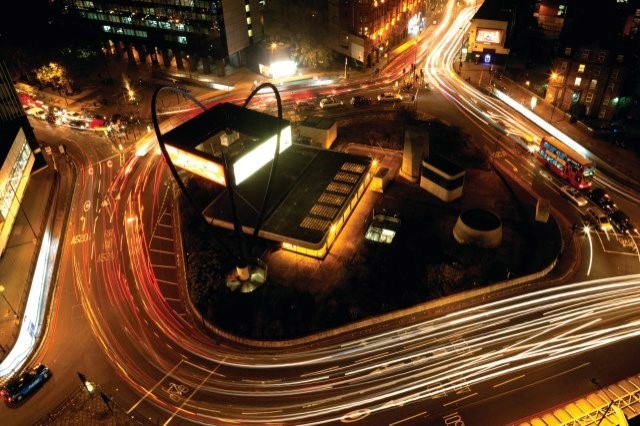 Silicon Roundabout lies at the centre of London's digital tech cluster
So you have a big idea? Your market research suggests you have a viable product or service? Welcome to London, one of the leading tech hubs in the world, with particular strengths in sectors such as fintech, software and web based services. It's a place full of creatively minded and talented individuals, funding to follow the best ideas, supported by government initiatives, and seen as a desirable place to live. This collection of positive factors has allowed the London technology landscape to grow at a rapid pace and provides over 582,000 jobs per year.
The London tech start-up scene is bustling with new teams being formed every day, in the hope of creating the next big thing. So how do you get started?
From concept to reality
You need to build your app/website, but have no experience with development? London provides the opportunities to get your big idea made. This could be achieved either through recruiting a cofounder and team in exchange for an equity stake, or an arranged monetary fee with a developer or agency.
Talent and teams
London is not short of talented individuals. It plays host to some of the biggest and most forward thinking companies in the world. This creates a large pool of skilled and experienced professionals, many of whom may consider joining a start-up they are passionate about.
Further to the seasoned developers, the high concentration of top universities in and around London provides a resource of talented students. London is one the points on the golden triangle, along with Oxford and Cambridge, within which four of the top ten universities worldwide can be found (Cambridge University, Oxford University, Imperial University and UCL).
This can provide the opportunity for start-ups to get a mix of youthful exuberance and the professionalism of those that have had years of experience. Put them together correctly and you may create what Jonathan Milner believes are the three most important factors to any start-up's success "team, team and team".
If you are looking to find a co-founder, there are a few great ways to go about discovering such people.
One way is to go networking. This can be a very daunting prospect, but one that will be extremely important throughout the life of your business. There are various 'co-founder dating and speed pitching' events across London. A personal recommendation of a great one to start with due to its relaxed nature, is the series hosted by the Hipster-Hacker-Hustler network. These type of sessions will not only allow you to meet potential technical cofounders but also investors, other start-ups and people to help on the business side, design side and other parts of your start-up.
There are also websites that help start-ups find people to join the team, for those that want to take a more digital approach. Websites such as startup2.net and workinstartups.com allow founders to find personnel to work with.
Agency development
Finally, another route to creating your product is having an agency build it. In London there are many development agencies, most of whom will work on a payment only basis, however there are some that will work for part equity - part payment for ideas they believe in. This course of action could leave you with a product but no in-house team to carry the project and business forward (in addition to an up-front cost when money may be tight).
Funding
Now that your technology is built or in the process of being built, it's time to think of financing. London is home to many angel groups and private investors. They can provide businesses with early stage risk capital, as well as tap in to an angel's experience and contacts.
If your business has grown too large for angels, venture capital (VC) firms might be your next source of funding. As of December 2014, there are 57 VC's with offices in London. VC's allow companies to raise more significant amounts of money and many of these firms will have an investment level starting at £1 million, through to in excess of £20 million. These VC's have invested in many of the biggest start-ups, including examples that have gone on to exit, such as Zoopla (currently listed at £1 billion), King Digital Entertainment (currently listed at £6 billion). In the first half of 2015, over £1.5 billion of VC funding was raised by London start-ups (more than in the total amount for the whole of 2014), of which 80% went to the tech sector.
The UK government is also playing its part. In May 2014 it announced that it had set aside £440 million to invest and aid UK tech start-ups. This money is being distributed through a range of direct initiatives including equity financing, soft loans and direct grants, as well as indirect schemes such as free or subsidised consulting and access to resources among others.
Desk space
London is a financial hub, technology hub and centre for a lot of global businesses. For this reason desk space in London is at a premium. Many entrepreneurs may start out working in bedrooms and coffee shops. If it is necessary for your start-up to have a permanent space and you can afford the price, there are of course conventional possibilities to renting a workplace. However, there are other options for those that do not want to go for higher cost office space yet, such as desk-camping and hot desks, as well as accelerators.
Desk camping is a relatively new phenomenon that allows businesses to capitalise on unused desk space, and allows people or small teams to hire desk space for smaller amounts of money. Further to this, hot desks are an increasingly popular office model. This is where a start-up will rent X number of desks in a large office (full of start-ups renting Y number of desks). These can either be fixed desks, so everyone in the team sits at the same desk everyday or hot desks where people can move around. Hot desks can be good for start-ups who know they will be hiring, as they can offer some flexibility. These two options have the added benefit of a plethora of networking opportunities with other early stage companies.
Additionally London is home to 36 accelerators. These often give start-ups desk space but also funding, mentors and a host of other potential perks to help accelerate growth of young companies. This can be useful as it usually does not cost the start up any up-front money, but accelerators will generally take a small share in the company.
The digital capital
From idea stage, through to growth and global scale, London has the ingredients for a start-up to flourish. The proximity to some of the best universities and companies in the world, allow the opportunity to work with bright, highly talented and forward thinking people. For ideas with great potential, there are angels and VCs who can offer 'smart capital' to fund growth and expansion. Who knows, maybe your idea will become one of the many valuable companies to have already been created in this great city. To the aspiring entrepreneurs out there…good luck!
Sources:
http://www.ft.com/cms/s/0/0ff8687c-8f52-11e4-b080-00144feabdc0.html
http://www.ft.com/cms/s/0/463480c2-a872-11e4-bd17-00144feab7de.html
http://techcitynews.com/2015/06/15/uk-undisputed-home-of-unicorns-in-europe/
http://techcitynews.com/2015/07/06/record-1-5bn-raised-in-london-in-first-half-of-2015/
http://www.ukbusinessangelsassociation.org.uk/investors/background-angel-investment
http://www.telegraph.co.uk/finance/newsbysector/mediatechnologyandtelecoms/11283107/All-of-Londons-start-up-accelerators-and-incubators.html
http://startups.co.uk/grants-for-starting-a-business-what-small-business-grants-are-available/
http://startups.co.uk/tech-start-ups-how-to-secure-government-funding/
http://www.itproportal.com/2014/12/04/uk-government-launch-25m-investment-fund-londons-tech-startups/