While on work experience, Henry Walton of Hockerill Anglo-European College looked into the growing Smartwatch phenomenon.
Is now the time of the Smartwatch?
Growth of the Industry
2012 saw the rise of a new industry following the success of the newly founded smartwatch company Pebble. The company pitched their e-ink display smartwatch to crowdfunding platform Kickstarter in April that year and received $100,000 in the first 2 hours after the project went live. The project went on to raise over $10,000,000 from 70,000 backers, demonstrating the substantial demand for intelligent wearable technology.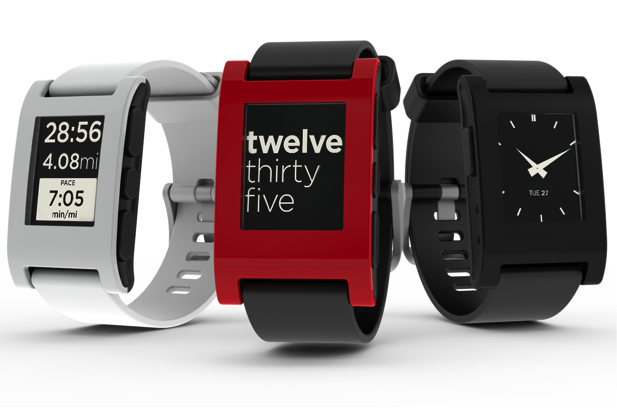 The Pebble Watch
Although fitness bands and simplistic smartwatches have been in existence for almost 10 years, it was Pebble's success that acted as the catalyst for the smartwatch industry's growth. Other major brands such as Samsung, LG and Motorola quickly followed suit and released their own products across 2013/14.
Statistia.com reports that 7 million smartwatches were sold globally in 2014 and forecast that this number could reach as high as 25 million in 2015. Similarly, Business Insider predicts that there will be 100 million smartwatch sales in 2018 which, with an average price of $100, would render it a $10 billion industry. In comparison, the global revenue in the smartphone industry totalled around $300 billion in 2014 with sales surpassing 1.1 billion units.
Smartwatch Functionality
Aside from having a touchscreen, the ability to connect to a phone is perhaps the defining feature of a smartwatch. There has been some debate as to whether the functionality of smartwatches justifies their existence since, to a certain extent, they simply mimic the functions of the smartphone they are connected to. The rapidly increasing demand for smartwatches, however, suggests that many people still highly value their utility.
Most smartwatches perform a variety of basic notification and health-care services, ranging anywhere from receiving texts and emails to monitoring your heart rate and number of steps. They can also be used for basic web browsing, calls, GPS navigation and as a remote for your phone's camera. Additionally, a wealth of third party apps exist to enrich the devices further, such as radio, weather and train time applications.
At their recent I/O conference, Google announced that they would be continuing to bring new features to their smartwatch operating system Android Wear, which is used by many of the best selling watches. They revealed that there are now more than 4,000 apps available for Android Wear and that updates will soon bring movement gestures, battery saving modes and wifi compatibility.
The Smartwatch Landscape
Until the release of the Apple Watch in April 2015, android-orientated smartwatches dominated the market and, although Apple's entry into the market offers some serious competition to these other prominent firms, their entrance has helped to reinforce the industry's existence.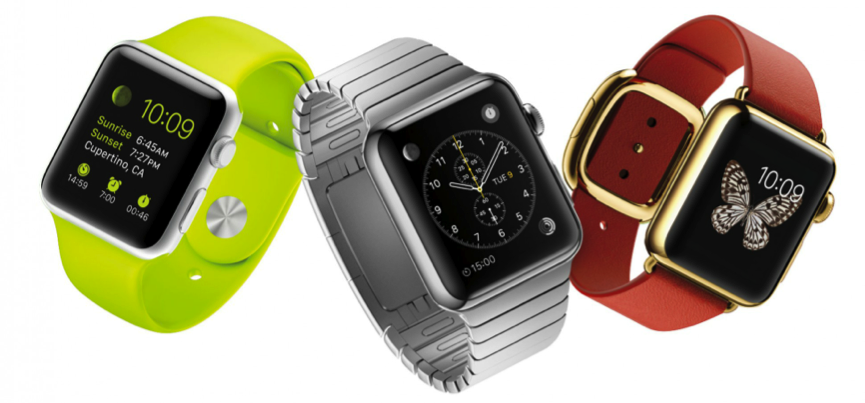 The different designs available for the Apple Watch
Many Apple-enthusiasts have already picked up the device, with global sales totalling 2.3 million for the first day of its release alone (as estimated by KGI). This has established the smartwatch's position in the mobile tech industry and will undoubtedly lead to a large inflow of time and money towards app development, benefiting all smartwatch users.
Fitness Trackers
Fitness trackers (or smartbands) are a slightly different form of wearable device, although they are sometimes classified as a sub-category of smartwatches. Fitness trackers typically feature a sleek body, designed for sports, which offer advanced calorie, workout and sleep tracking.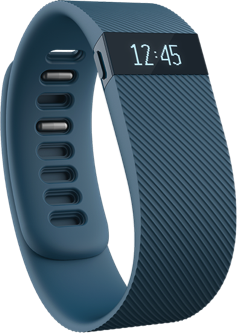 The Fitbit Charge fitness tracker from Fitbit
According to the Economist, the fitness tracker industry was worth $238 million globally in 2013, with the companies Nike, Fitbit and Jawbone owning 97% of the market between them.
Although the time of the smartwatch is undoubtedly approaching in the near future, what will happen to fitness bands remains to be seen. Nike has already pulled their fitness tracker products out of production, instead opting to develop software for the Apple Watch. It is possible that the smartwatch industry will see the death of fitness trackers, however their ruggedness and long battery life is likely to aid their survival.
Sources:
http://www.economist.com/news/business-and-finance/21613925-potential-market-personal-fitness-tracking-devices-over-hyped-shedding-wearables
http://www.statista.com/statistics/302722/smart-watches-shipments-worldwide/
http://www.ibtimes.com/apple-watch-preorders-top-23-million-units-globally-says-kgi-securities-analyst-1884665
http://www.businessinsider.com/global-smartwatch-sales-set-to-explode-2013-9?IR=T
http://www.redmondpie.com/every-android-wear-announcement-from-google-io-2015/
by Henry Walton, IB student at Hockerill Anglo-European College