Recent UK GDP quarterly growth rates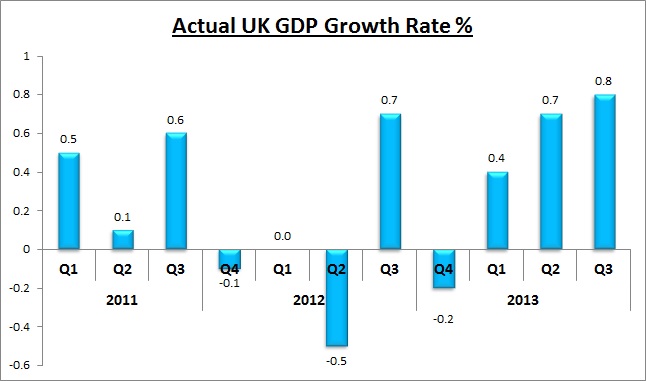 Source: ONS
2013 has seen three consecutive quarters of positive growth for the first time since 2011, with the last quarter being the fastest rate of growth for three years. 2012 saw ups and downs on a quarterly basis as momentum struggled to build. The UK economy's recent performance has seen a marked difference and led the Bank of England (BoE) to say the recovery has "taken hold".
Growth forecasts upgraded
Over the last few years the general trend has seen forecasted growth rates progressively downgraded. However, over the course of 2013 growing optimism has been reflected in lifted figures. During his Autumn Statement, Chancellor George Osborne announced that the Office for Budget Responsibility (OBR) had increased its UK growth forecast for 2013 from 0.6% to 1.4%. The CBI has also demonstrated an upward trend in its growth forecasts for this year, lifting them from 1% to 1.2% in August and again to 1.4% in November.
Predicted UK GDP Growth Rate

2013

2014

OECD (November)

1.4

2.4

BoE (November)

1.6

2.8

PwC (December)

1.4

2.4

CBI (November)

1.4

2.4

OBR (December)

1.4

2.4

Average

1.44

2.48
What's driving this higher growth rate?
The main driver in the UK's recovery has been attributed to rising household consumption. In the latest quarter it is believed that this delivered 0.5% of the 0.8% growth in GDP. A strong raft of economic data has also contributed to upgraded prospects. ONS figures for Q3 show construction, production, manufacturing and services all up. Reassurance that UK interest rates will remain low for some time to come has further added to confidence.
The future rate of growth
Growth rates for 2014 have also been revised upwards. As observed from the table above, the Bank of England are predicting a growth rate of 2.8% for 2014, an increase of 1.1% on forecasts made only two quarters ago. However, it is still early days in the recovery process and the economy remains smaller than it was before the financial crisis.
Are increased growth rates sustainable?
So far the recovery has been driven in the main by increased confidence, consumer spending and housing. To sustain the recovery, a much better balance will need to be achieved. The BoE withdrawing the funding for Lending scheme (FLS) stimulus could be seen as an acknowledgement of this. An increase in corporate investment and Infrastructure spend will go some way to rebalancing the economy but perhaps there should be some recognition that sector classifications need to change. The services sector accounts for almost 80% of the UK economy and we need to sub divide this in a more informed manner. The technology sector is a significant contributor and yet we don't seem to have a good indication of how much this accounts for. For instance, what percentage of this is digital manufacturing?
More on this in the New Year.
Published: 17/12/2013
Sources:
ONS - Gross Domestic Product Preliminary Estimate, Q3 2013
PwC - Global economy watch | Projections
OECD - Economic Outlook
CBI - UK now on a steady growth path through 2015 and beyond - CBI
OBR - Economic and fiscal outlook December 2013
The Independent - Bank of England upgrades growth forecast for UK economy