A report compiled by Markit and KPMG has highlighted the strong performance of the UK technology sector in comparison to the private sector overall. Markit polled 150 tech companies as part of its regular survey of 1000 companies operating in the UK. The report identified tech employment clusters, job hiring and growth trends as well as business outlook expectations. Presented is an encouraging portrait of the UK tech sector.
Here are some of the key findings:
Location of UK technology sector employment clusters
Wokingham has the highest number of tech jobs in Great Britain, with a proportion of more than five times the UK average. This may be explained by Microsoft and Oracle's UK HQ's being situated there.
The top 10 tech jobs clusters are all close to major transport links in the South East.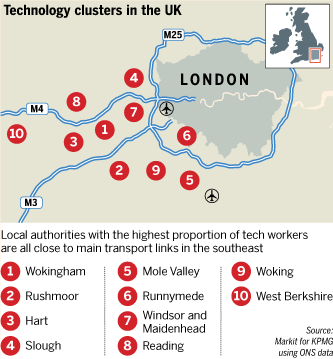 70% of all local authorities in the South East have a higher proportion of tech jobs than the UK average.
Outside of the South East, the regions with the highest local authority tech jobs quotients, were Tewkesbury (11th overall), Christchurch (15th overall), Cambridge (18th overall), South Cambridgeshire (21st overall).
Job hiring and growth trends
The number of jobs in the sector now exceeds 1m out of a total of 28m employees across all UK sectors (~3.57%). This compares with 915,000 out of 27m in 2010 (3.39%).
For the last four years, jobs in the tech sector have grown more rapidly than the private sector overall. Employment in the tech sector year on year for the first half of 2013 rose by 4.3% compared with 0.9% for the private sector as a whole.
UK tech sector output growth is the fastest since May 2010.
Business outlook
83% of tech companies in the UK forecast a growth of business activity over the coming year, compared with 60% across all sectors.
Tech companies' expectations for business activity are at their highest since 2009.
Tech companies employment levels are expected to be higher than the private sector average – a net balance of +31% for tech companies compared with the private sector net balance of +23%.
Notes
'Technology sector' terminology - The Markit and KPMG report classifies technology sector employment as a 'workplace based' concept, rather than an 'occupation based' concept. The report has also estimated that a weighted combination of the following five SIC categories represents the best available bellwether for the footprint of 'technology jobs' within UK local authorities.
The 'Technology Sector' industry groups:
Software publishing (SIC 582).
Computer programming, consultancy and related activities (SIC 620).
Data processing, hosting and related activities; web portals (SIC 631).
Manufacture of computer, electronic and optical products (SIC 26).
Manufacture of electrical equipment (SIC 27).
Sources:
Tech Monitor UK: Understanding tech clusters and tracking the UK tech sector's outlook for employment and growth
UK technology job creation outpaced other sectors for four years