The 'Internet of Things' has become a 21st century talking point with the increased growth of 'smart device connectivity'. We previously explored this in 2014 in 'Internet of Things' - From cars to cookers, it's a connected revolution.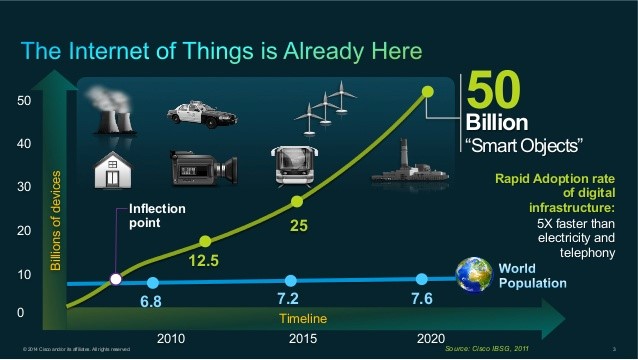 The Internet of things (IoT) is already here. There has been significant media attention over the last 5 years around consumer adoption in wearable tech such as fitness bands and household connected devices. The rapid adoption rate of digital infrastructure is five times faster than electricity and telephony. Yet it is the growth of IoT in industry that is now garnering substantial momentum.
China is the leader of the Industrial Internet of Things (IIoT). It currently has more connected devices than any other global nation. IDC's research predicts that the overall IoT market in China will increase to $361 billion in 2020 from $193 billion in 2015.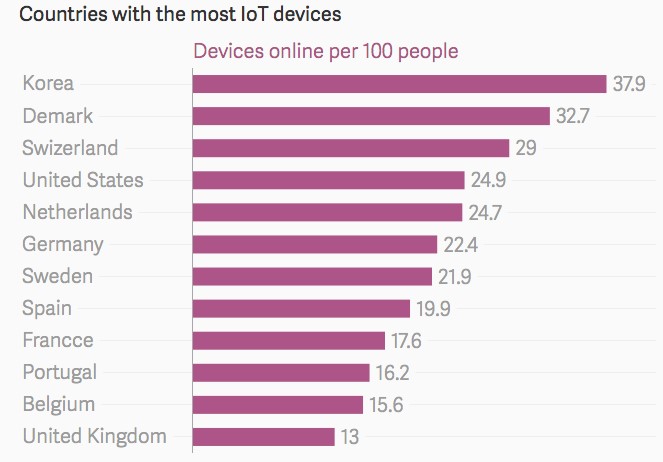 Although lower down the list in comparison to Korea, Denmark and Switzerland, the UK is still well placed to become a global leader in the development of IoT. It has a positive regulatory environment, world-class digital infrastructure and good track record of adapting to support emerging technologies. Cambridge, London and Liverpool have emerging clusters of companies. Tech City is growing small digital businesses across London and the rest of the UK. Big data and IoT together are expected to generate £322 billion revenue for the UK economy from 2015-2020.
The Internet of things (IoT) could also open up vast opportunities for semiconductor companies to transition from being component suppliers to additionally being solution providers of software, security and systems-integration services, thus offering unprecedented connectivity but also long-term innovation.
By 2020 it is estimated that there will be 50 billion 'smart objects' connected to the global internet. Three major entities that will benefit from using IoT ecosystems are consumers, businesses and governments. With the greatest potential being for business, Gartner predict that the adoption rate take-up will reach 43% by the end of 2016.
Which sectors will be most disrupted by IoT?
'The digital revolution is the new industrial revolution'. 'The fourth industrial revolution' is also known as Industry 4.0 (a German government initiative set up in 2006) to digitize the manufacturing sector, it has been adopted as a global vision to influence other initiatives and increase productivity.
According to Gartner's global survey conducted in March 2016, 56% of the 'heavy industries' such as manufacturing, oil, gas and utilities are planning to implement IoT this year to help improve efficiencies by optimizing production, reduce internal costs thus increasing revenue whilst protecting the safety of the work place. Many sectors from the three entities will benefit from the implementation of IoT ecosystems. Here are five examples where major advancements have already been made:
1. Agronomy
Agriculture has the potential to be revolutionized by the convergence of IT and operations, enabled by the Internet of Everything (IoE). Sensors on livestock (which help identify sick animals so they can be pulled from the herd to prevent further spread of disease, to automated soil testing (monitoring plant and soil conditions, controlling water usage and determining custom fertilizer) are some of the ways that data can be used to improve Farm management, productivity which will substantially increase margins. It is estimated that 75 million IoT devices will be shipped for agricultural uses in 2020.
2. Automotive
The car industry is being revolutionized with the use of data analytics,
cloud services and emerging IoT technologies to create the next generation smart and connected car. It is estimated that there will be 381 million connected cars on the road by 2020, up from 36 million in 2015 in addition there will be nearly 10 million semi-autonomous and fully autonomous vehicles on the road making them a top IoT device. Smart cars can be connected in two ways:
Embedded – Using secure embedded software (built-in antenna and chip)
Tethered – Using hardware to allow drivers to control their cars via their smartphones
Today's connected smart cars are fitted with vehicle sensors, probes and integrated Apps, moving away from built-in GPS systems, to offer real-time updates on traffic flow, disruptions, weather conditions, speed limits and parking availability.
3. Construction
The 'Internet of Things' allows any machine or system to be connected to the internet from which statistical data and analysis can be drawn. Equipment manufacturers are heavily invested in the growth of 'intelligent machines' using data to determine fuel consumption, machine hours, GPS tracking and idle time. Wearables such as Google Glass allow workers to access hands-free instruction manuals on-site or benefit from remote support that sees what they see. Additional benefits include remote operation in areas that would be too hazardous to humans. Better data and analytics will enable manufacturers to have less downtime and provide them with the information required for predictive maintenance. It will also allow them to determine optimal operating procedures and reduce theft and misuse of equipment.
4. Healthcare
Clinical wearables, high-tech surgical equipment and soluble sensors are just some of the technological advancements IoT can bring to the healthcare profession helping it shift from cure to prevention. It is estimated that 646 million IoT devices will be used by 2020. Increased data and improved connectivity will help provide real-time information on patients giving them greater control over decisions affecting their wellbeing, which in turn, will help improve outcomes of treatment and disease management whilst reducing costs and system inefficiencies. However, IoT cannot be viewed as a panacea with data privacy and security being two big obstacles that need to be addressed.
5. Retail
IoT offers a wealth of opportunities to retail businesses, enabling them to develop new services and products. Key areas that will revolutionize the in-store experience and the connected home are:
Customer Experience
Using a smartphone, customers will be able to scan an item to retrieve product information, reviews or even social media commentary. Shops will be able to send through digital coupons to the customer by the use of beacons when they enter the store. Consumers will be able to customize their shopping experience by the use of robots with touch screens, browsing the store's inventory to locate their desired product.
Supply Chain
By the use of 'smart' shelves that can detect when an inventory is low and 'smart' autonomous robots in product assembly to 'smart' packaging that can monitor the freshness or age of perishable goods.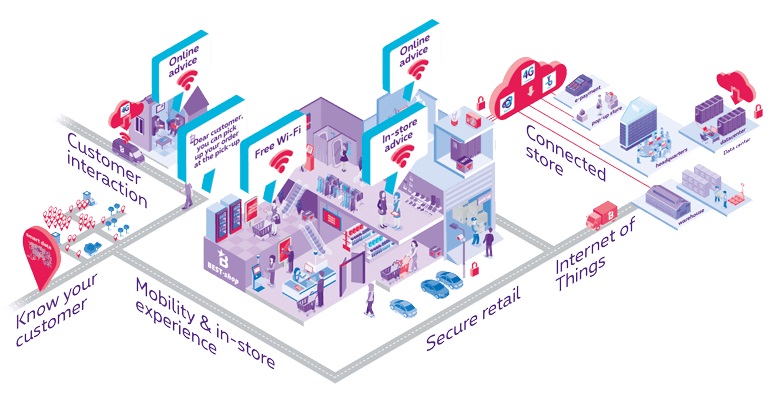 Adoption success
The successful adoption of IoT into industries will rely on a number of factors:
Enhanced infrastructure
Improved data regulations
Heightened security
Consumers will be reluctant to adopt any IoT platform without device governance and security. Yet for IoT companies to succeed, they will need to be able to freely generate and access data. Also the necessary ecosystems between hardware software, services and network partners need to be in place to ensure adoption success. Ultimately industries that adopt IoT will want to see a return on their investments, to justify its costs to implement.
With all technological advancements but in particular with the unprecedented speed of IoT growth, the benefits come first, quickly followed by the limitations. The possibility of cyber security threats, delayed regulation and security standards could dampen the disruption of IoT and its speed ofdoption.
However, many governments have initiated IoT public research policies, acknowledging the potential benefits (and are offering financial incentives to support projects by start-ups that utilise IoT technologies). The EU has made IoT an integral part of its Digital agenda for Europe 2020. As the world's biggest manufacturing power China already has more 'connected devices' than any other country. Embedding IoT in its manufacturing, Accenture estimate could generate up to $736 billion to the country's GDP by 2030.
In September 2015, the UK government launched a three-year national programme iotUK (as part of the Government's £32m IoT investment) to advance the UK's global leadership in IoT and increase its adoption throughout businesses and the public sector to boost economic growth.
Positive connection
The future potential of IoT will undoubtedly increase productivity and revenue of the digital economy creating great opportunities for countries worldwide. The 'early adopters' such as China, Korea, Denmark and Switzerland who have positively adapted to support emerging technologies and have a solid digital infrastructure will become the leaders, however the UK is still well placed to join them.
However, it is imperative that all countries develop an IoT standards policy that recognise the legal, moral and ethical issues surrounding adoption but also ensure there is some form of global IoT governance to which they all adhere to. A connected world is a better world.
Natasha Evans
http://www.mckinsey.com/business-functions/business-technology/our-insights/an-executives-guide-to-the-internet-of-things
http://www.intel.com/content/www/us/en/internet-of-things/industry-solutions.html
http://www.slideshare.net/rmaranon/scaling-the-internet-of-things-at-iot-wsn-berlin-2014
http://www.informationweek.com/iot/iot-adoption-will-reach-43--in-2016-gartner-finds/d/d-id/1324558
http://uk.businessinsider.com/report-10-million-self-driving-cars-will-be-on-the-road-by-2020-2015-5-6?r=US&IR=T
https://www.accenture.com/us-en/insight-internet-things-revolutionizing-retail-industry
https://www.thebalance.com/how-internet-affects-the-construction-industry-845320
http://uk.businessinsider.com/internet-of-things-connected-smart-cars-2016-10
http://www.mckinsey.com/industries/high-tech/our-insights/the-internet-of-things-sizing-up-the-opportunity
https://www.gov.uk/government/uploads/system/uploads/attachment_data/file/409774/14-1230-internet-of-things-review.pdf
http://www.information-age.com/uk-companies-could-benefit-322-billion-big-data-and-iot-123461163/
http://readwrite.com/2016/08/04/economist-magazine-sees-china-poised-iiot-leader-il4/
http://www.mckinsey.com/industries/semiconductors/our-insights/internet-of-things-opportunities-and-challenges-for-semiconductor-companies
http://qz.com/648863/the-top-country-early-adopters-of-the-internet-of-things-ranked/
http://www.oecd.org/officialdocuments/publicdisplaydocumentpdf/?cote=DSTI/ICCP/CISP(2015)3/FINAL&docLanguage=E