Here we share the press release from the recent Cambridge Angels Summer Reception held at Sidney Sussex College, Cambridge.
Click on the title to read more!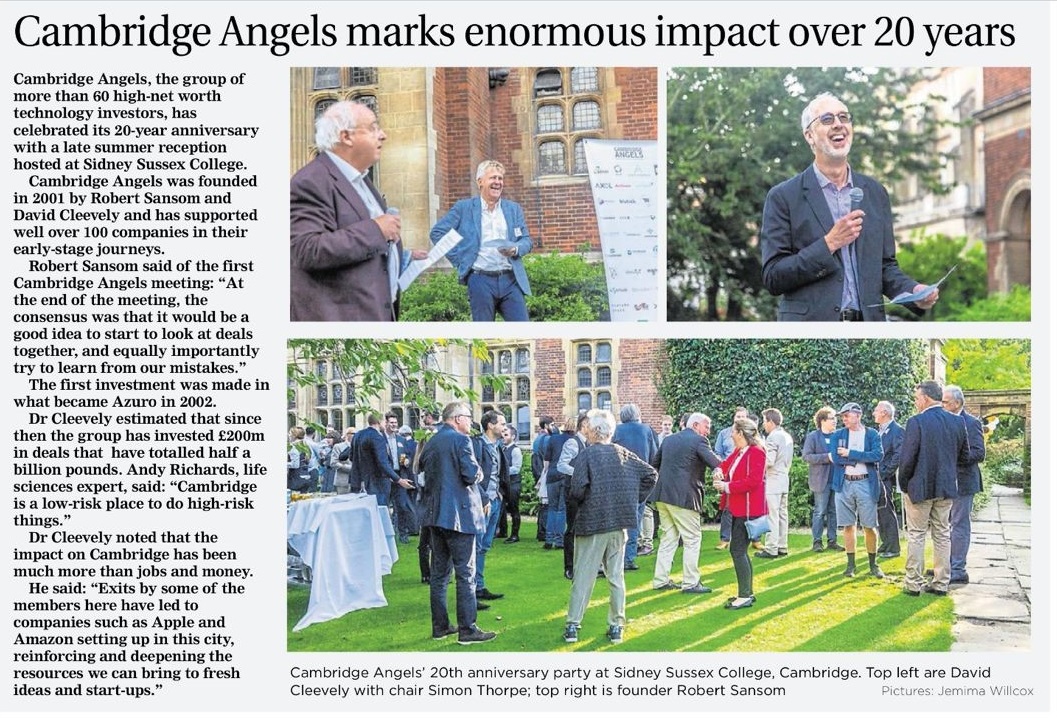 From the evening's speeches:
"So a big welcome from me. I took over as Chair of Cambridge Angels in September 2019 from Peter Cowley so most of my 3 year tenure so far has been during the pandemic. Like many businesses we had to reinvent our operating model moving it completely on line in early March 2020. It's come to my attention that I have been nicknamed "Capt lockdown"!
But more seriously, it has been an immense privilege to be the Chair of this group. During this period our membership has grown (we are close to full) and our investment activity is as strong as ever.
Just a reminder for those of you who don't know us so well.
We are 60 individual angel investing members, one corporate research partner, Cambridge Enterprise and 5 corporate partners.
(Albion, Cambridge Innovation Capital, IQ Capital, Martlet and Parkwalk)
You are all represented here this evening. Thank you all for your continuing support.
Our members, 75% of whom have built their own businesses in technology and healthcare have diverse investment interests but all have a common interest is supporting early stage companies and their entrepreneurs with funding and mentoring. Many of our 100+ current portfolio companies are here this evening. It's great to see so many of you.
Our investment focus is wide but our focus is deep tech, intellectual property rich, business to business in technology and healthcare. We strive to support new technologies, innovation and job creation.
We are very fortunate to be part of this Talented academic and entrepreneurial ecosystem which in many ways is a model for the future of UK Plc in this digital age.
The market is awash with capital but deep expertise is a much rarer commodity."
Simon Thorpe